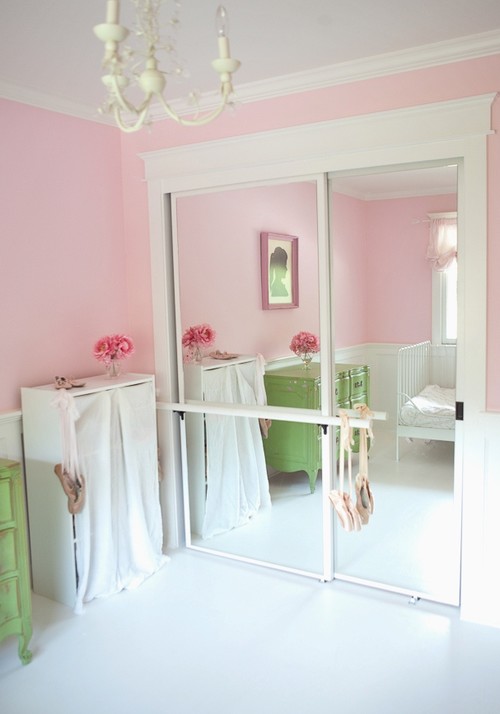 If you have a dancer that is passionate about dance, chances are they make the most of the space in their room or throughout your house to practice.  Have you heard those words?  "Mom, could we add a ballet barre over here and a mirror on that wall?"  My own daughter has quite a bit of dance space in her room and a space to tap, but the ideas are always flowing on how it could be further enhanced.
Check out these examples from Houzz.com for inspiration.  If you have not visited Houzz before, I warn you, it is addictive and you will be exploding with ideas to decorate your entire house.  For now, here are a variety of examples on creating a space for your dancer.  They range from the very simple to the over the top! 
At Home Dance Space Inspiration
Combine glam and dance space. Love this adorable make-up space in this dance room.
I love this sweet space.  Such a great use of the closet doors. 
Great way to make the most of your space.  Love the mirror and according to the website, the barre was ordered from an online fitness supplier. 
The double mirrors work well with this ballet barre.  This would be an easy way to create a practice area. 
There is always the option of creating a space for the whole family.  Love this!   
This designer found a great way to incorporate the ballet barre in this room.  The mirror makes the room appear larger and the bed is a Murphy bed that can be popped up into the wall to create more space. 
This is such a fun space for any little girl and from the picture, it looks like they simply mounted the mirrors above and below the barre.  Looking at the ends of the barre, it appears the barre is actually a curtain rod. 
This is a narrow room, but it works well for a practice area.  It would be even better with wood flooring. 
I had to include this one.  Talk about making the most of your space.  The ballet barre, costume area and curtains would be a dream for any little girl.  So fun! 
If you have questions about any of the items featured in these rooms, go to

Houzz.com

and each room has the option to ask a question.  Just click the button, fill out the form and someone will get back to you.  Happy browsing and don't say I didn't warn you – it's addictive! 
Do you have any tips or suggestions for creating a dance space in your home?