Meet Nicole…  
This Pennsylvania girl loves ballet.  Read below to see what Nicole and her Mother had to say about their dance experience.  
Dancer's Name: Nicole Elli
Age:

 15
State:

 Pennsylvania
Studio:

 Le Dance Academie
How many years of dance?

 12 years
How many hours do you dance a week?

 4 hours
Favorite style of dance:  

Ballet.  I love the poise, elegance and grace that comes with it.
Favorite dance you have performed:

 A ballet number called the "12 Dancing Princesses".  It was performed to a Yanni song that was simply beautiful.  It made all of our moms cry.
Favorite dance skill to perform:

 Grand Battements
Who inspires you?

 Anyone who can do something I can't.  They push me to try my best and set new goals to accomplish.
If you could work with any choreographer, who would it be and why?

 Derek Hough, because he has simply amazing choreography that combines traditional dances with a modern twist.  He creates the best characters.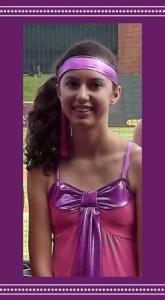 Performance at the pre-game show for the Altoona Curve – the semi-pro team for the Pittsburgh Pirates.
Favorite part of the dance year:

 My favorite part of the dance year is recital time. Getting to do what I love for a whole week 24/7 is so much fun.
What is your favorite snack for dance events?

 Nutrigrain Protein Bar
If you could be a choreographer for your studio, what song and style of dance would you choose for your dance?

 I would choose to do the song "Whenever You Remember" by Carrie Underwood to do on pointe with my cousin, who is also a dancer.
If you could go to lunch with any other dancer, who would it be and why?  

Kaitlyn Jenkins from Bunheads.  She is so confident in herself and such an optimist.  Even through rough times in her life, she never lost sight of what she loved.  Plus, she is a total rock star on pointe!
Favorite dance TV show:

 Dancing With the Stars
Favorite dancewear?

 I love the Euroskins footed tights. They are so soft and not scratchy like other tights!  Also, I love my Capezio Contempora pointe shoes.  They are my kind of high heels!
Favorite dance moment:

 Being in your opening pose behind the curtain, and feeling the rush of adrenaline as the curtain opens and you start your solo.  You feel like you are on top of the world.
When you're not dancing, what do you like to do?

I also play flute and piano, and love to sing, write, and read.

Nicole's Mom
Name:

Barb Elli
I knew my daughter loved to dance when

she went to a dance class with a friend and I watched my terribly shy daughter light up and come alive.
My favorite part of the dance year is

recital week. I love sitting with the other moms, seeing everyone's costumes for the first time, and cheering the girls on.
My favorite costume she wore was:

  This is hard because there have been so many. Her Spanish costume for this year's solo to Don Quixote from Man of LaMancha is at the top of the list. The dance was more theatrical than she usually performs and she did it beautifully.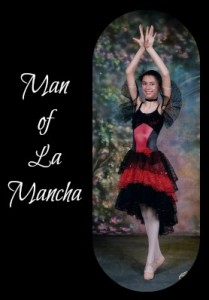 If I could choose a song and style of dance for my dancer

, it would be "I Hope You Dance" by Lee Ann Womack.  Every year since she was four, we dance to this song together before leaving for her recital.  I can't twirl and spin her anymore, but she still wants to dance with me.
My favorite style of dance to watch

is ballet.
When I first became a Dance Mom/Dad, I didn't know 

that I would watch her grow so confident in herself.  Dance has given her the confidence to try new things and love the stage.
My favorite thing about being a Dance Mom/Dad is 

watching Nicole and her dance friends encourage each other and push to be their best.  It extends into all areas of their lives.
My best tip for fellow dance parents is

let them do what they enjoy. Nicole waited and worked for so long to be on pointe.  When she finally did it on stage, I felt her joy and cried.
Aside from being a dance parent, I like to 

put on my sunglasses and watch my son's baseball games.

Nicole and Barb, thank you so much for sharing your dance experience with us!

Last week's Dancer Of The Week:  Emma Mitchell