Dancers Name:   Samantha Mullins
Age: 17
Dance Studio:  Elite Academy of Dance and Performing Arts
How many years have you been taking dance?  8
How many hours do you train per week?  4.5
What is your favorite style of dance and why?
Contemporary, because once you have a firm grip on your technique, there are no limits to what you can create! There's very little right or wrong in Contemporary, and that's such an amazing feeling to be able to have that much freedom in your art form!
Do you attend dance competitions and conventions?  Yes
How many do you attend each year?
4-5 regional competitions, and 1 national competition in the summer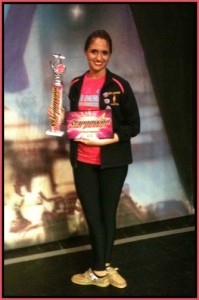 What is your favorite dance you are performing this year?  
Our Small Group Lyrical to Idina Menzel's acoustic cover of "No Day But Today" from Rent. It gives me chills every time I listen to it! Our costumes and choreography are perfect, and our group has become like a little family. I'm so proud of everything we've accomplished together this season!
What is your favorite skill to perform?
My left turns! It always catches people off guard when I start going to the left!
Who inspires you?
Misty Copeland is my biggest dance inspiration. She's living proof that no matter what people tell you, there is no mold or form that you have to fit in to be a dancer. If you have passion and drive, it doesn't matter what color your skin is, or how wide your hips are, you CAN be a dancer!
If you could work with any choreographer, who would it be?  Sonya Tayeh
What is your favorite dance TV show?  SYTYCD
What is your favorite dancewear?  Capezio
What is your favorite dance moment?
At one of our last competitions I was backstage helping with props for one of our Mini groups "Never Grow Up". As I was standing in the wings watching them dance, I suddenly became so overwhelmed by how proud I was of them. I've known most of these girls since I was 13, and now as I'm seeing them blossom into beautiful young ladies, I couldn't help but begin to cry. I got so swept up in the moment that before I knew it they were walking off stage, and I had to go out and collect the props with tears still running down my face!
If you could choreograph a dance for your studio what song and style of dance would you choose?
I have wanted to choreograph a contemporary piece to a song called Tragedy by Brandi Carlile forEVER! It's such a beautiful song, and her voice is absolutely breathtaking.
In her own words:  "I would love to be featured as Dancer of the Week to represent my studio and my teachers! They work so hard for us and I would love to be able to represent the Elite Academy name as best as possible!"
Thank you Samantha!  Your passion for dance and your pride in your studio are evident.  Thank you for sharing your passion with us.
Click here to read about our previous "Dancers Of The Week".
To apply to be considered for the "Dancer of the Week" feature, click here.