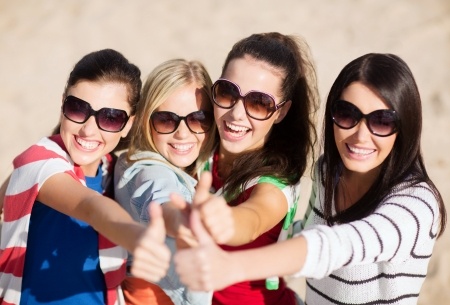 It's that time of year again – dance competition season!  This post ran a year ago, but it's like anything, we can all use a few reminders every now and then!  Hoping your competition season is both fun and successful!
Your dancer has worked hard to prepare for competition. They've worked on their technique, learned their dances, cleaned their routines, and worked on conveying a story or mood for each dance. They've put in the time and done what they need to do to represent themselves and their studio in a positive way.  They are ready and excited for a successful weekend, but what you can you do to contribute to the success of your weekend?
1. Prepare – Whether its a local competition or an out of town convention/competition, start checking things off your list no later than the weekend before the competition.  That may seem early, but what about the butt glue (not sure what that is, read here) you were going to replace from last season, or the tights that were torn at dress rehearsal or the last competition etc.  A little planning ahead will decrease your stress level.
2.  Read All The Communication From The Studio – It's easy to get overwhelmed by all the email that may be filling your inbox, don't miss important details or save the dance emails to read later – read them immediately and make notes or screenshot any important details.
3.  Be On Time – Allow yourself plenty of time to arrive at the venue.  Be respectful of when the Studio Owner has asked you to be there.  Don't assume its too early and make up your own arrival time.  If there are any final details that need to be worked out with dances, or perhaps a dancer is unable to perform, this is valuable time for the team.  Part of being a good teammate is not stressing your team out.  If you've ever been in a dressing room when a group is waiting for a dancer to arrive, you can see the stress on their faces.  Decreasing the stress of the team is always beneficial.
4.  Show Your Support To Everyone From Your Studio – If you can arrive to watch the younger dancers, awesome try to do so – they love it.  If you have a younger dancer and can stay to catch some of the older girls performances, that's great too.  If your child is competing a solo, duet/trio, he/she will be competing against her teammates – support them all.  It is unavoidable that someone is going to place the highest and someone else the lowest of the group.  Someone will be thrilled and someone else may feel like it was the worst day ever – yes, it's a competition that's what its about, but some of the stress is alleviated when all the parents are supportive of all the dancers.
5.  Be A Positive Reflection Of Your Studio – Dancers may wear the team jacket, but if Mom has an attitude in the dressing room, it is a reflection of your studio.  Be kind.  Be patient.  Be flexible.  Breathe and it will all be okay.  It's supposed to be fun – and at the end of the day, it is a dance competition – a day to spend time with people who are supporting their children who happen to love being on stage just like your child.
6.  Refrain From Coaching and Critiquing –  Guess what? That's why you write the check each month – to pay the experts, who are trained to teach and coach your child through the dance competition experience.  I know, you used to dance, so did I, or you've been going to competitions for 10+ years, what does that make us?  Awesome dance parents, not dance teachers!  Used to dance was a long time ago and well, being an audience member doesn't give you training.   Also, remember a group of dancer's don't want to hear from anyone's parent something they could have done differently or something that looked "off".  Let the teachers handle that.
7.  Leave the Scoring To The Judges – Everyone has an opinion on what dance or dancer appealed to them most, but unless you are sitting at the stage staring at the dancer's feet, legs, shoulders, neck, torso etc, looking for emotion, being drawn in, not being drawn in, looking for musicality etc. etc. etc. – I mean I can't imagine all the things they are trying to look for. Unless you have that view, are trained and are able to watch for details that intently, you don't have the proper perspective to "judge" who should place where.
8.  Have Fun – Enjoy the other parents, families, dancers.  It's fun – competitions are so much fun and talking and enjoying your fellow parents also makes your dancer feel like you are a part of things and enjoying yourself.
9.  Be Understanding – if your child, tween or teen – has a "moment" of  exhaustion, attitude, sorrow, frustration etc.  At some point it's going to happen – learn to read his/her body language and decide what works best for the two of you as a team.  Do they need space, is it better for another friend to help, is it better to let them vent etc. etc.  Probably the worst thing you can do is make a scene and upset them to the point that they lose focus on what they are there to do – perform to the best of their ability on that day.  If you don't like something about their behavior, a conversation later that evening in the hotel room or on the drive home may be a better place to address that.
10.  Be Helpful – Be the one who offers to bring a teacher coffee or lunch etc. – it's not kissing up.  It's called they are trapped (not really, but kind of) in this facility all day and they need to eat and drink so they can be at their best for their dancers.  If someone forgets something, happily jump in and offer to help.  Last year, my dancer's tap shoe lace broke at the last minute and she quickly needed to borrow a shoe.  A teammate immediately said take my shoe & her Mom agreed, even though her dance was right after my dancers.  My dancer danced, passed off the shoe quickly and she danced and all was well.  They didn't have to do that, but that swift offer to help was awesome!  Be awesome.
At the end of the day, we all have our moments, we are not perfect, but a little preparation and a positive attitude can go a long way in contributing to the success of your dance competition season!
One other thing, don't forget the Dance Mom prayer, always a good way to start the weekend!  Best of luck on a great season to you and your dancers!
Pin It